By John Cusick, OFS with Evelyn Rivera Cusick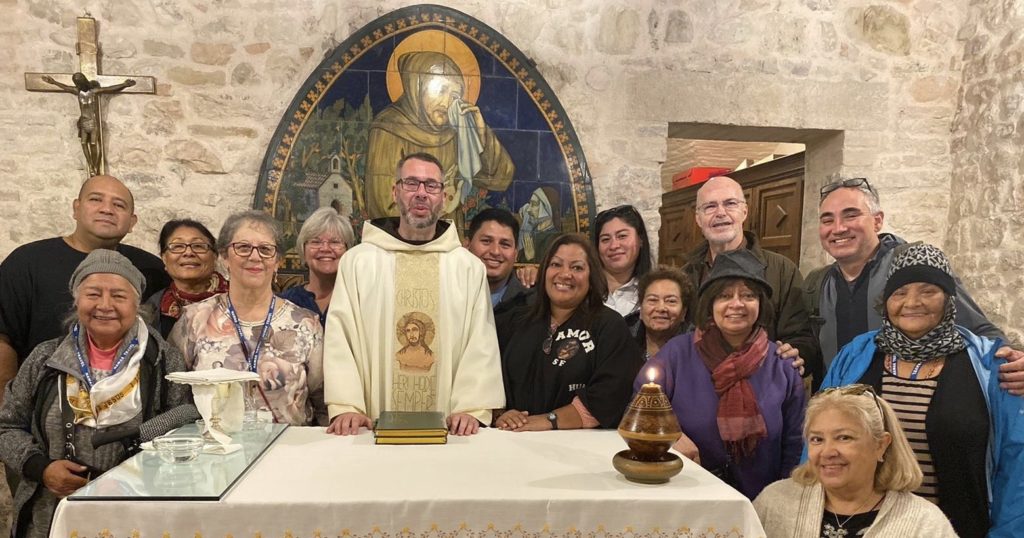 "How was Assisi?" asked a friend after my recent trip there with Fr. Erick Lopez, OFM and 14 others. Most were Latinos from St. Camillus Intercultural Parish in Silver Spring, Md., other area parishes and St. Paul's, Wilmington, DE. A few were Secular Franciscan candidates.
"Well, I got a fresh tau," was my most-likely puzzling response. But to me it made perfect sense. The tau is the T-shaped cross you've probably seen worn around St. Camillus. It was the designation for crucifixion in Roman times, also the mark used by St. Francis to sign his name. It is the habit of our Secular Franciscan Order and a symbol of one's willingness to do penance in the sense of turning one's life toward the gospel. I've been collecting taus since Fr. Mike Johnson, OFM gave me my first several years ago. They're very inexpensive, particularly in Assisi. Each, made of wood, has a grain not exactly like any other, an example of the uniqueness of every human being, indeed, of every creature. For me, each represents a milestone on my personal spiritual journey.
Assisi is a wonderfully magical place where all the stories about St. Francis come alive, where one can walk the streets and mountain paths he walked, be touched by the Holy Spirit and to a greater or lesser degree, enter into Francis' and St. Clare's spiritual journey. So, to say, "I got a fresh tau," is like saying, I've come home with fresh magic, a new sacramental to remind me of my own commitment to the gospel life and a remembrance of my journey with a diverse group of companions.
Perfect Joy
For 11 days we traveled, prayed together, offered masses and had time for personal prayer and recollection. As frustrations are sure to arise on any such pilgrimage, we early on reflected upon the story of "alegria perfecta," or "perfect joy," from The Little Flowers of St. Francis. As they travel together, Francis teaches Brother Leo that perfect joy is not to be found in glorious accomplishments, even if for sake of the gospel, but only in sharing the pain of the cross. He hypothesizes that he and Brother Leo are rejected at a monastery, left outside hungry and cold, insulted and beaten with a club. "If we endure all those evils and insults and blows with joy and patience, reflecting that we must accept and bear the sufferings of the Blessed Christ patiently, for love of Him, oh, Brother Leo, write: that is perfect joy." Francis admonishes Leo that, "Above all the graces and gifts of the Holy Spirit which Christ gives to his friends is that of conquering oneself." The concept of "alegria perfecta" would be raised with a smile numerous times as we spent days walking in the rain, dealt with language issues, nursed aches and pains – several of our group used canes and wheelchairs – and dealt with the loss of a cell phone.
Our travels took us through Florence, known for its charm, grand cathedral and ubiquitous art and sculpture, then through Gubbio and La Verna to Assisi. We finished in Rome with a tour of the Vatican and papal audience. One of my most moving experiences was praying in the Chapel of the Stigmata at La Verna, at what is believed to be the very location where Francis received the marks of Christ's crucifixion. I placed my tau on the glass case covering a marble slab marking the spot and reflected on the fact that when Francis received the stigmata, he actually entered into the process of Jesus' dying on the cross. As I begin a career as a hospice chaplain, I realize this is what I am called to do: to journey with Christ manifest in each of my patients as they bear their own cross and encounter Sister Bodily Death.
Of course, we visited the Basilicas of Francis and of Clare, where the original San Damiano crucifix now resides; San Damiano itself where Clare and her sisters were cloistered; and Rivo Torto where Francis kissed the leper and the early friars ministered to those outcasts of society. On our last day in Assisi we visited the Eremo delle Carceri with its mountainous caves and wooded paths where Francis and his brothers retreated to pray. Several of us were profoundly affected by the strong spiritual presence there, including my wife, Evelyn Rivera Cusick, who helped organize the pilgrimage.
Passing through the grotto where Francis slept on a stone bed and prayed toward the end of his life, "I leaned against the wall, closed my eyes and saw two eyes," she said. "For me, they were the eyes of Francesco." As the group spread out for private meditation atop Mount Subasio, she stopped to pray at a supine statue of St. Francis lying on the ground gazing skyward. "I also looked up through the trees and imagined, this is how Francesco talked to God. I began to cry. It showed me that life is simple, that no matter where we are, in any place, we can be in communication with God." Though she had struggled with pain in her knees which later returned, she literally danced down the hill. "I felt that I was healed and, in that moment, I was free."
In Christian Unity
Many changes took place in our group over the course of the pilgrimage. I began the pilgrimage as a near-stranger to most and struggled with my limited Spanish. A bilingual pilgrim from my own parish took it upon herself to interpret for me. Another climbed with me to Rocca Maggiore castle from where I photographed Assisi at night. He shared with me the story of St. Peter of St. Joseph de Betancur, known as the "St. Francis of Guatemala." Peter was a Secular Franciscan who founded a religious community and a hospital to aid the poor of that country.
In the spirit of "alegria perfecta," we learned mutual respect, to overcome our differences, to tolerate less than perfect weather. We sang frequently our favorite hymn "Laudato Si, O mi Signore," the title in the original Italian in which Francis wrote his Canticle of the Creatures, which translates in English as "Praised Be, My Lord." In the spirit of "alegria perfecta," we broke out in a slightly different version at the gelataria next door to our hotel where we socialized after dinner: "Gelato, si, O mi Signore." It raised our spirits and we became popular with our hosts there. No irreverence intended. I think that neither Francis nor our Lord would mind.
So, yes, I returned from Assisi with a fresh tau, blessed by the pope. The challenge now for all of us is to carry forward the magic of Assisi into our daily lives, with changed hearts, with love for our brothers and sisters and for all of God's creation.