By Laura Rainey, OFS with contributions from other members of the St. Anthony of Nagasaki Secular Franciscan fraternity

As part of our collective and ongoing education in matters of racism and anti-racism, I recommend the following articles, books, and podcasts for your consideration:

Articles:https://www.ncronline.org/news/opinion/assumptions-white-privilege-and-what-we-can-do-about-it
https://www.commonwealmagazine.org/worship-false-god?fbclid=IwAR1CAABDrdIFdNCiXKW9lSPlyhAuBFY3YKFkuzGaVuw_wNQ73l1dd38DSeQ

Books:White Fragility: Why It's So Hard for White People to Talk about Racism, by Robin J. DiAngelo
How to Be an Antiracist, by Ibram X. Kendi
How to Be Less Stupid about Race: On Racism, White Supremacy, and the Racial Divide, by Crystal Marie Fleming
I'm Still Here: Black Dignity in a World Made for Whiteness, by Austin Channing Brown

Videos: https://ignatiansolidarity.net/blog/2020/06/08/video-catholics-confront-racism-power-police-brutality-justice/(I HIGHLY recommend this video, an interview with Fr. Bryan and Olga Segura, a Catholic lay woman. Well worth an hour of your time.)
The Next Question is a series of web-based episodes on the topic of racial justice, hosted by Austin Channing Brown. https://www.tnqshow.com

Podcasts: Brené Brown has done podcast interviews with Ibram Kendi and Austin Channing Brown. Both are exceptional talks. You can find them at https://brenebrown.com/unlockingus/
Also Jessica passes along a podcast which I highly recommend. https://www.numinous.fm/redeemer/14/ 

Organizations: (From Marie Dennis, OFS) I would like to encourage the fraternity or individuals interested to learn more about the anti-racism work of Pax Christi USA (www.paxchristiusa.org), which is the US member organization of Pax Christi International, the 75 year old Catholic movement for just peace. For many years Pax Christi USA has had an active anti-racism task force; has been committed to diversity in leadership; and has tried to follow the lead of people of color in learning about racism and responding to structural and systemic racism.
Religions for Peace (RFP) USA envisions a nation in which people of faith and goodwill live together in respect and mutual support, creating paths to peace and justice.
https://blacklivesmatterdmv.com
https://www.congregationactionnetwork.org/
Liminal Space – that dark and uncomfortable place between where you were and where you need to be. Several interesting references are here and here and here, all from Richard Rohr.  
I've attached a few images below that I have found helpful as I do my own work.
Finally, I pass along this thought-provoking analogy from Lonnie Ellis, OFS

Imagine Jesus standing in a crowd, healing and teaching. He's showing special care and dignity for lepers, and making sure to break bread with despised and excluded people like Samaritans. Then he summarizes what his teaching is about: "So what I'm saying is: Samaritan lives matter. Leper lives matter…" But he's interrupted: "Excuse me, Jesus! ALL lives matter."Lives are being debased in lots of ways, sure. Of course all lives matter. Focusing in on lives that are treated like they don't matter – black lives that are in danger everyday -is a great way to assert that all lives matter.

Peace and love to you all, Laura
---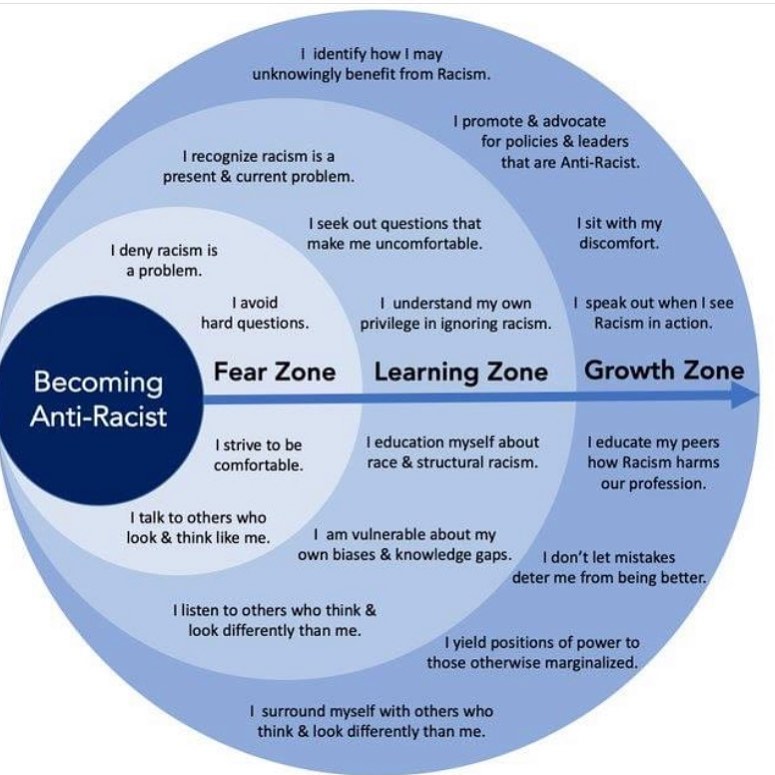 ---