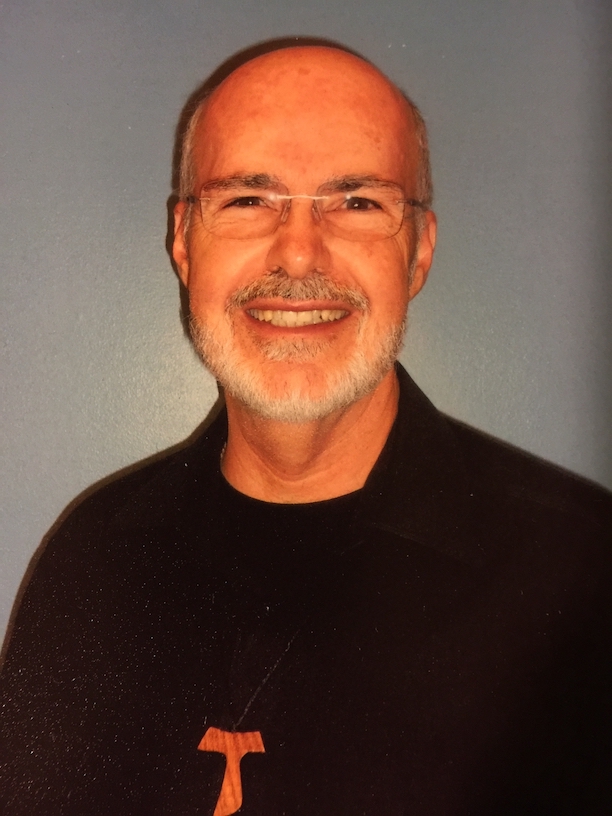 We are pilgrims on a journey,
We are travelers on the road
We are here to help each other
Walk the mile and bear the load.
Good afternoon, I'm Chaplain-Resident John Cusick, and I'd like welcome you to our weekly Lenten Reflection.
May the Lord give you his peace.
As I set about to prepare for this, I began to think in terms of a Lenten pilgrimage. It's long been common for people of many faith traditions to set out on a journey to a holy place – this in fact is what Jesus was doing in the days prior to his death and resurrection. He was essentially on a pilgrimage to Jerusalem to celebrate the Passover.
So, while still gathering material, I set out on a pilgrimage of my own. Some of you know that I'm a Secular Franciscan, and my wife Evelyn, who is from Puerto Rico, has started into formation with a Spanish-speaking group of Secular Franciscans in my home parish. Her fraternity recently agreed to help other Spanish-speakers to form a new Secular fraternity in Delaware. Wanting to support her in this endeavor, I volunteered to drive.
So our caravan of folks, mostly from El Salvador, Guatemala, and Nicaragua, and a Franciscan priest from Cuba, headed up to St. Paul's Church in Wilmington to spend a day with a dozen Puerto Ricans. Though Spanish was the predominant language spoken, most of us were at least functionally bilingual. As my Spanish is somewhat limited, I listened more than talked.
As part of our day, we went on yet another pilgrimage, making the Stations of the Cross in the old church with its stained glass windows … retracing Our Lord's route to Calvary … his passion, death and burial.
And we heard a Lenten reflection, written in Spanish by a Franciscan friar from Mexico, Brother Javier Del Angel De los Santos. Brother Javier was so kind as to provide me a copy of his talk in English. I'd like to share a few of his thoughts, along with some of my own:
First, on the imposition of ashes on Ash Wednesday: I grew up hearing the priest, as he smudged my forehead, say, "Remember, man, that thou art dust and to dust thou shalt return."(Gen. 3:19) With this grim reminder of the inevitable death we will all experience, Christians began a period of penance, fasting, sacrifices, abstinences, and mortifications.
Today, in the new liturgical rites of the Catholic Church, resulting from the Second Vatican Council, the ritual allows for a more evangelical invitation: "Repent and believe in the gospel,"echoing the first words spoken by Jesus in the Gospel of Mark (Mk 1:15).
The word in Greek for "repentance" is metanoia, which literally means "to go beyond what one knows," "to change one's way of thinking," or "to change course or orientation" – once again, suggestive of a pilgrimage. To repentmeans to look at people and life events in a different way, to re-orient our own lives toward the good of others.
With Jesus, and after Jesus, the destiny of the human being does not consist of returning to dust, but in being a member of our Lord's family: brothers and sisters and mothers of Jesus (Mt 12:46-50; Mk 3:31-35; Lk 8:19-21) and therefore brothers and sisters and mothers of each other.
Living this way, in relationship with God and neighbor and with the earth, is how we definitively enter the divine life of God. In fact, the one who behaves like Jesus acquires what in the Gospels is called "eternal life," that is, a life that transcends even death. And Jesus spoke of beginning to live eternal life in this world: "He who believes in me haseternal life"(Jn 5:24; 6:47).
And, if we read the Gospels carefully, we will see that Jesus never commanded or asked for fasting, abstinence, mortification, or sacrifice. Instead, following the prophetic tradition of the prophet Hosea (Hos 6:6), Jesus asked just the opposite with such clarity that even today we are reluctant to believe: "It is mercy I require, not sacrifice"(Mt 9:13, 12:7). What God asks of us is that we practice mercy. This word, "mercy," is a translation of the Hebrew hesedmeaning "fidelity to the relationship between two people," and in this case, fidelity to a relationship where the compassionate love of God is practiced.
Contrary to moving us along on our pilgrimage to holiness, Lenten sacrifices and penances carry the risk of becoming self-referential, that is, we become too focused on ourselves, on our own (misunderstood) spiritual perfection, separate and apart from others and from the practical service that meets the needs of others. Jesus knew that sacrifices, abstinences, mortifications, and fasts cause us to focus primarily on ourselves, convoluting his assurance in the first of beatitudes, "Blessed are the poor in spirit, for theirs is the kingdom of heaven." (Mt 5:3) Jesus is calling us not so much to material poverty as to total reliance on God, uniting our will with his own. Our Lord simply asks that we practice hesed, mercy, because fidelity to our relationships based on love, compassion, and justice helps us to come out of our egos and to do good to others.
When the Pharisees asked Jesus why his disciples did not fast, as was their custom, he famously replied,"How can you expect the bridegroom's friends to fast while the bridegroom is with them?"(Mk 2:18-22). How are they going to fast if the joy of being in intimate communion with Jesus – the bridegroom – has already freed them from those religious practices!
The early Christians likewise did not practice fasting or ascetic practices of abstinence or penitence. In a document that could be called the oldest catechism, The Shepherd of Hermas,cerca 150 CE, the teaching of the early church is transmitted to us as follows:
"God does not desire such an empty fasting, (i.e., abstinence from food). For by fasting to God in this way you will do nothing for a righteous life. Rather, offer to God a fasting of the following kind: Do no evil in your life, and serve the Lord with a pure heart: keep God's commandments, walking in God's precepts and let no evil desire arise in your heart, and believe in God. If you do these things, and fear the Lord, and abstain from every evil thing … you will live unto God; and if you do these things, you will keep a great fast, and one acceptable before God."(Shepherd of Hermas, 64)
Fasting is practicing justice! So radical!
A more familiar reading from the Old Testament gives is similar language:
"Is this the kind of fast that I require, a day of mortification such as this: that a person should bow his head like a bulrush and use sackcloth and ashes for a bed? Is that what you call a fast, a day acceptable to the Lord? Rather is this not the fast that I require: to loose the fetters of injustice, to untie the knots of the yoke, and set free those who are oppressed, tearing off every yoke? Is it not sharing your food with the hungry, taking the homeless poor into your house, clothing the naked when you meet them, and never evading a duty to your kinfolk?" (Is 58:5-7)
Our true Lenten pilgrimage is to the "kingdom of heaven" as alluded to in the beatitude, as near to us as the air we breathe but frustrated by the entry of sin and death into our world.
***
At the end or our two-hour drive home, and hungry, my wife and I decided to attend a celebration in our parish of the martyrs of El Salvador. This year the event included live Latin music, a meal of salad, tortillas and chicken served over rice, and a live drama depicting the life and death of Archbishop, and now saint, Oscar Romero. Who in our time is a greater example of living out the values of the gospel. March 24 marked the 39thanniversary of Romero's assassination by a lone gunman while celebrating a Mass for his people.
The re-enactors, costumed as farmers and workers, joyfully swarmed around him as Romero, instantly recognizable in a white cassock and dark-rimmed glasses, lifted them up and encouraged them. A single shot rang out amid screams of horror and Romero fell. A second actor dressed in identical costume entered, smiling, symbolizing Romero's spirit, risen to share eternal life.
But for me, the following scene was the most moving: Armed soldiers, in camouflage and ski masks, went among the people, entering their homes and pulling the men away from their shrieking wives and mothers. I wept as I recalled the firsthand story of my friend Mayra, whose father and brother were among those taken. It took several days for their family to even locate them. Both had been beaten and her brother, brutally tortured. Her family lives here now. Her mother is also a Secular Franciscan.
The evening ended with Adoration of the Blessed Sacrament as about 500 worshippers – most from Salvador and other Latin American countries – knelt in prayer before the Eucharist, reverently displayed on the altar, and received a blessing from the God who sustains them, in a still difficult life in this country.
I'd like to close with an excerpt from Oscar Romero's final homily:
"If we illuminate with Christian hope our intense longings for justice and peace and all that is good, then we can be sure that no one dies forever. If we have imbued our work with a sense of great faith, love of God, and hope for humanity, then all our endeavors will lead to the splendid crown that is the sure reward for the work of sowing truth, justice, love, and goodness on earth.
"This is the hope that inspires us as Christians. We know that every effort to improve society, especially when injustice and sin are so widespread, is an effort that God blesses, that God wants, that God requires of us."