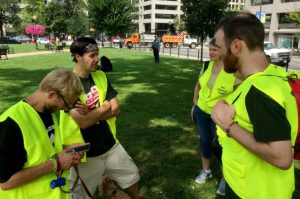 Rhett Engelking, OFS (right side in photo above) served as a member of the DC Peace Team, a trained unit of unarmed civilian protectors during the Unite the Right rally on August 12th. According to the press release, the DC Peace Team recognizes the dignity of every person, and will seek to interrupt dehumanization, prevent violence, and when possible engage in constructive dialogue. Joining Rhett was Mary Liepold, OFS and Marie Dennis, OFS.
(photo from Heidi Thompson, NCR)
Read more at the NCR website.
Article 19
Mindful that they are bearers of peace which must be built up
unceasingly, they should seek out ways of unity and fraternal harmony
through dialogue, trusting in the presence of the divine seed in everyone
and in the transforming power of love and pardon.