There's a reason the Franciscan tau does not bear the image of Christ, said Br. Michael Meza, OFM Cap. "We're called upon to climb that cross. We put ourselves on that cross." This is our baptismal vocation as "priests, kings and prophets," he told the Secular Franciscans of the St. Margaret of Cortona Region.
John Cusick, OFS, Pat George, OFS, and Barbara Lange, OFS were among dozens of sisters and brothers from local fraternities in several states who gathered for the St. Margaret of Cortona annual regional retreat May 31 to June 2 at Priest Field Pastoral Center, to explore the theme of "Deepening Our Vocation."
Br. Michael led the retreatants through a unified series of talks interspersed with group liturgies, sharing at meals and social hours, and time for personal reflection. He called upon the Secular Franciscans of our region to deepen our communion with the Lord, Jesus Christ. He pointed out that in Confirmation we received the gifts of the Holy Spirit to strengthen us, and that we are people of faith, called to constant conversion. "We must have the conviction of St. Francis that we are people of faith, called to be part of the Church's mission to bring God everywhere." He cited Article 6 of our rule, urging us to "go forth as witnesses and instruments of the Church's mission among people, proclaiming Christ by our life and words," and that, "Secular Franciscans proclaim Christ by their lives and work."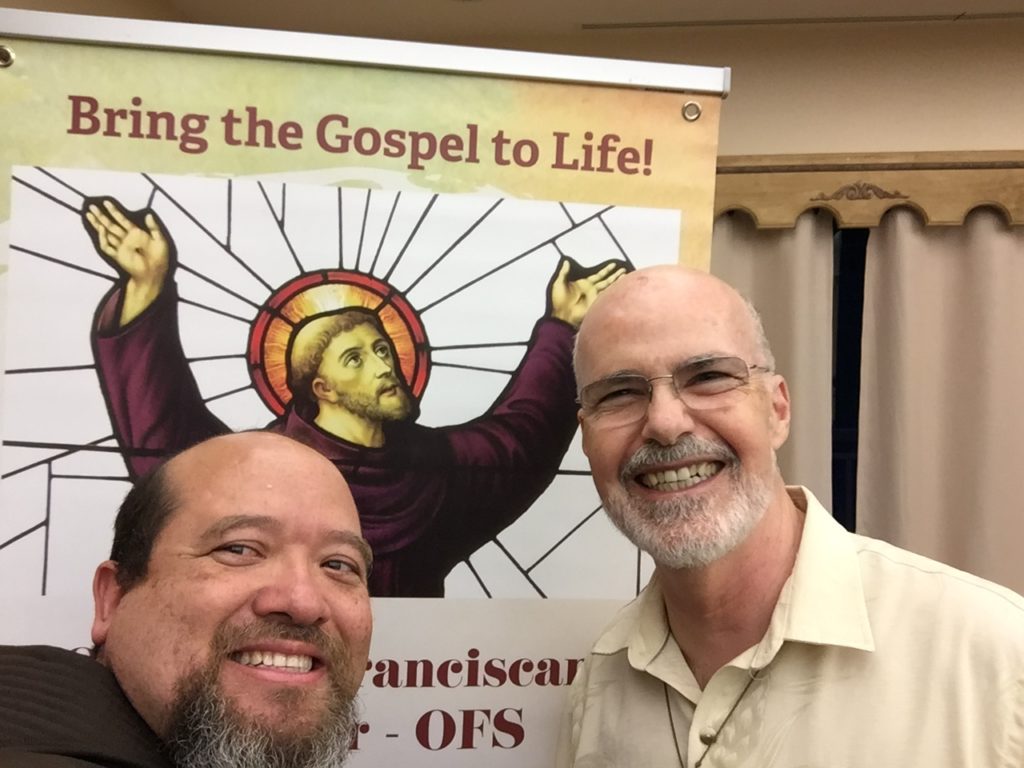 Urging us to look at salvation through the lens of St. Francis, he pointed out the uniqueness of our Franciscan charism among many spiritual families in the Catholic Church: Greccio, where Francis staged the first live reenactment of the Nativity scene, "the expression of Francis's love for the poor, humble, vulnerable Christ." He cited the Nativity narratives of Luke's gospel, pointing out that, "Mary's 'yes' was our 'yes'" and that we are called to say 'yes' to whatever God is calling us to do.
Called first to "rebuild ourselves" through continuing formation, we are like Francis, called to "rebuild the Church," at a time when the faith of many has been shaken by scandal. Discerning our roles in this regard is a process, he explained, just as Francis first believed he was called to rebuild the crumbling physical infrastructure of San Damiano and only in time discerned his role to found the spiritual orders that would stand in sharp counterpoint to the concerns for wealth and political power that corrupted the Church in his time.
Francis's exhortation to, "Let us begin anew," said Br. Michael, does not mean that we need to start over at the beginning, rather, "Let's start something new." Turning to the sacraments for inspiration, he pointed out that it is necessary for us to be in proper relationship to God and neighbor, and that sin "break all these relationships of communion." He urged us to frequently make use of the Sacrament of Reconciliation and to receive Christ's body and blood, pointing out that, "We will always know that we are in communion with the Father, Son and Holy Spirit because we receive him in the Eucharist."
Br. Michael urged retreatants to see our fraternities as an extension of our families. "Your gifts have to be used for them and their gifts have to be used by you." Concerning our combined mission, he cited Pope John Paul II's exhortation to Secular Franciscans from his "Vita Consecrata" (Life of the Consecrated): "Present yourselves to the world as a community of love."
Breakout sessions inspired lively discussion on three questions: "Who is Francis for Me?" How can I inflame Francis in my life and community?" and "How can I show my Franciscan love for everyone: to my children, grandchildren, great grandchildren and those who do not know Christ."
Regional Minister Bob Longo, OFS, offered a pertinent suggestion, repeated by many throughout the retreat: "Say to people, have a blessed day."
"I often say God bless you to hospital patients when I leave their rooms," said Cusick, a chaplain at MedStar Georgetown University Hospital. "I invariably get a positive reaction which, in turn, is a blessing to me."
Lange said she enjoyed the group discussions and during reflection time, a walk down by the river that flows past the retreat center. "We talked about how things are going to change in our lives," Lange said, appreciating several references to our rule and statutes included in Br. Michael's talks. She and another sister also walked one of the many wooded paths on the site, near Kearneysville, W.Va.
George appreciated the short breathing exercises and centering prayer with which Br. Michael began each session. "What struck me about Br. Michael's talks was how he emphasized the significance of Baptism. He spoke about how most of us don't recall our Baptism, but we do recall our Confirmation and our saint's name. And he spoke on how we as Catholics renew our baptismal promises every year at Easter."
Retreatants enjoyed plenty of time for reflection and evening social hours, prayed together the Liturgy of the Hours and attended Mass together in the Priest Field chapel.